Touch-Me
The hi-tech kitchen mixers with TOUCH-ME technology allow to activate and stop the water supply with a simple touch of the mixer, without having to intervene on the mixing lever. Touch-me technology turns into a great advantage for the user in terms of practicality, hygiene, water saving and speed in all kitchen operations. Faucets with TOUCH-ME technology are simple to be installed and extremely easy to use. Powered by batteries with a space-saving installation under the sink, Touch-me technology do not require any electrical wiring or any special maintenance, making all the kitchen operations fast and fun, in addition to ensuring water and energy savings. The mixing lever is "isolated" by the Touch-Me control, to also allow for classic use.
---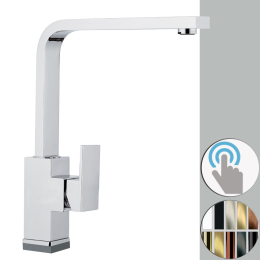 Single-lever one-hole sink mixer with Touch-Me technology, high squared swivel spout, side lever. Equipped with Ø 35...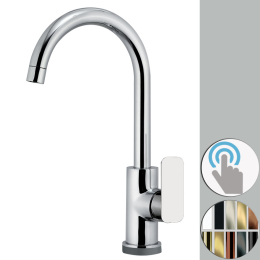 Single-lever sink mixer 90°, high spout, equipped with Touch-Me system, side lever and movable spout. Equipped with...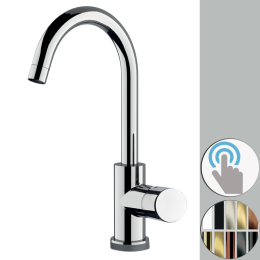 Single-lever sink mixer equipped with Touch-me technology, high swivel spout and side lever. Equipped with Ø 35 mm...