COLLECTION 2023: NEW GENERAL CATALOG FOR BATHROOM AND KITCHEN
We are pleased to introduce You the COLLECTION 2023 by Daniel Rubinetterie: a complete range of faucets for bathroom, kitchen and wellness. Brand new shapes, colours and possibilities to feature all Your interior projects with style, elegance and personality.
COLLECTION 2023 proposes new product items in every catalogue sections, from the finishing options to the new You&Me decorations, from wellness solutions to kitchen mixers, besides new complete faucets collections: TRILOGY, AMBITION and SWING added to the SOUL&DESIGN section, REFLEX collection for a CONTEMPORARY choice and BROOKLYN collection which completes our CLASSIC-style range.
For an easier consultation, COLLECTION 2023 has been split into two different documents: DESIGN COLLECTION and LIVING COLLECTION.
DESIGN COLLECTION 2023
DESIGN COLLECTION by Daniel Rubinetterie includes bathroom and kitchen faucet collections of SOUL&DESIGN, CONTEMPORARY, WATERFALL&COLOR and CLASSIC categories, STEEL collection in brushed stainless steel and PVD colours, complete wellness solutions for bath and shower settings, chromotherapy systems, thermostatic mixers , sensor and timed flow taps for public areas, bathroom accessories and complements.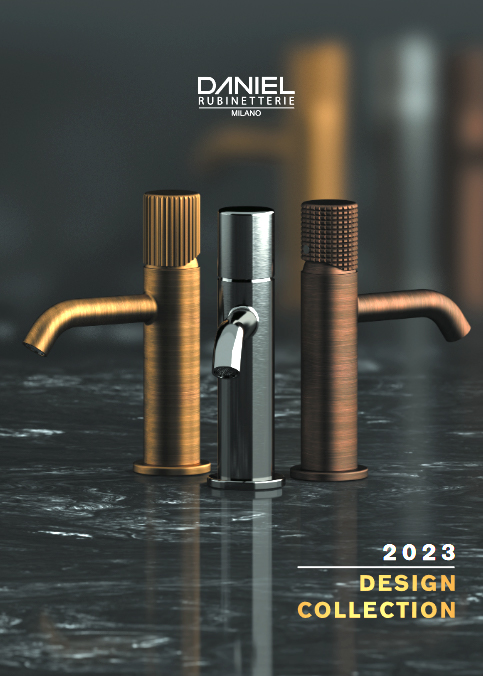 [CLICK ON THE IMAGE TO DOWNLOAD THE PDF]
DESIGN COLLECTION 2023 HIGHLIGHTS
FINISHING OPTIONS
The finishing options are confirmed as a strength in Daniel Rubinetterie offer with the new DEKORA YOU AND ME possibilities and a simplified colour table: 15 plain colours (including chrome) that range between shiny and brushed finishes with 2 brand new options: Shiny Brushed Copper (RP) and Visual-INOX (VX).
AMBITION
AMBITION faucets collection expresses a modern and sophisticated elegance, enhanced by technical details that make it unique in its kind. The absence of rear cuts on the lever accentuates and perfects the parallelism with the spout in the basin mixers. The aerator that completely disappears inside the brass shape guarantees the balance of the entire design even in the finished versions.
TRILOGY
TRILOGY faucets collection is dedicated to the most creative design projects. The clean and minimal lines of the mixers in the GLAM version are enriched in the ROCK and the CLUB versions with inlaid levers, giving style and originality to any interior.
BROOKLYN
BROOKLYN is a collection of single-lever mixers with a sophisticated style, an elegant charm expressed through rounded shapes and decorative inlays. A timeless design suitable for classical-chic interiors.
SWING
SWING is a collection of single-lever faucets with modern and rounded lines. Its mixers with a conical base offer an alternative solution for washbasins that includes a high spout and side lever also for the bathroom.
STEEL COLLECTION
The TOKYO STEEL faucet collection grows and becomes an entire section of the catalogue dedicated to brushed stainless steel products: design shower heads, complete wellness kits, bathroom accessories and kitchen mixers. All items made in stainless steel with a brushed effect and available in 3 new dedicated PVD colours: Brushed Black, Brushed Brass, Brushed Copper.
WELLNESS
The 2023 catalogue section dedicated to wellness is enriched with a lot of brand new products: shower heads systems for ceiling and wall mounting which can be installed alone or in multiple customized compositions; new models of shower heads with chromotherapy, new shower set solutions; brand new outdoor free-standing shower columns.
KITCHEN MIXERS
New modern mixer models in our kitchen section will satisfy all Your needs about design and functionality. Furthermore, thanks to the collaboration with BWT Italia, the 3-way mixers offer is now available with complete water filtering systems.
LIVING COLLECTION 2023
LIVING COLLECTION includes all the contract-type faucets collections.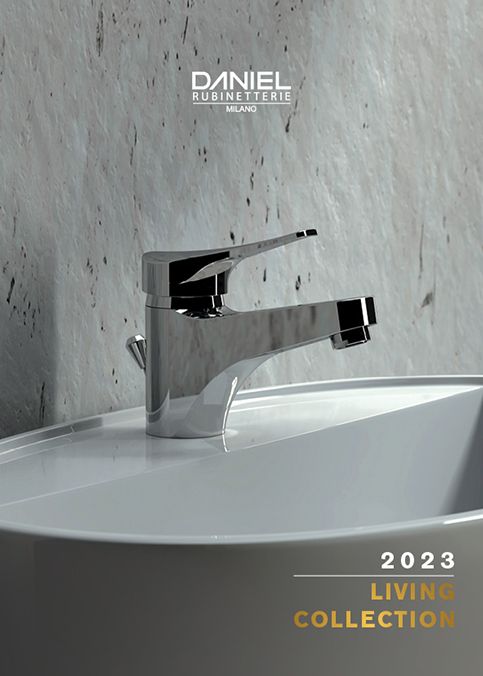 [CLICK ON THE IMAGE TO DOWNLOAD THE PDF]